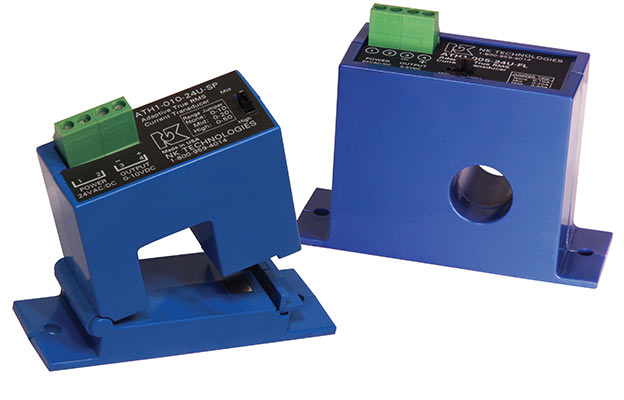 ATH Series AC Current Transducers
ATH Series (patented) AC Current Transducers are the latest innovation from NK Technologies. Monitoring the current or power controlled by silicon-controlled rectifiers (SCRs) can be a challenge, especially the current used by heaters. When used to monitor zero-crossing (burst) fired SCRs, the ATH AC Current Transducer will provide an output signal directly proportional to the RMS amperage. Zero-crossing fired controls allow current to flow to the circuit for as short of a time period as one cycle, and off for several cycles. Most current sensors will not work well when there is no current present. This capability is important in case a heating element fails but the process continues operating, which could result in scrapped material.
INDUSTRY STANDARD OUTPUT
4–20 mA, 0–5 VDC or 0–10 VDC.
Compatible with most automation systems.
EXTERNALLY POWERED
Split-core models powered with 24 VAC or DC.
Solid-core models powered with 24 VAC or DC or 120 VAC.
FACTORY CALIBRATED
No need for zero and span adjustment potentiometers.
RMS OUTPUT
Accurate measurement of sinusoidal, or pulsed current wave shapes.
BUILT-IN MOUNTING FEET
Simple, two-screw panel mount or attach with DIN rail brackets included.